Becoming a new parent is both overwhelming and exciting!
We all know that a baby comes with a whole lot of joy, but they also bring along a number of added stresses and a slew of oftentimes expensive purchases.
As new parents, we feel like everything needs to be in place before the arrival of our new addition. Along with painting the nursery and buying the diapers, new parents have to throw down some serious money to outfit their baby's new digs.
Among the most important and necessary purchases for your new baby is the selection of a proper crib mattress. Your newborn will be spending up to 17 hours per day sleeping in their crib, and their sleeping surface is an important part of his safety and comfort.
Lucky for us, current safety regulations on crib mattresses makes it hard to make a bad selection, but there are still a few things for you to consider when going out to make your purchase.
Your child's crib should be a safe haven for him and a worry-free zone for you. Follow these steps in order to make an easy and educated mattress decision on any budget.
What to Look for in a Crib Mattress?
New Is Best
The life expectancy of a new crib mattress is only about three years.
Crib mattresses are meant to last about as long as one child will use them. This means that replacing a crib mattress in between children and purchasing a new instead of a used mattress is very important.
Over time, crib mattresses lose their firmness and durability. They begin to wear down over a few years of use, leading to a less than ideal place for your infant to rest.
Sagging and worn crib mattresses can pose a serious risk to your child by increasing the chances for SIDS and other sleep-related deaths. Buying new is not only the cleanest option but also the safest!
Other advantages to buying a new mattress are cleanliness and sanitary concerns.
Buying new reduces the potential for added bacteria, allergens, dust mites and mold and we know that all of these irritants should stay far away from the new baby!
The most important reason to buy new is to ensure that your child's sleeping surface is a safe and clean place to spend their resting hours. The best part is that buying a new crib mattress can be accomplished at any price point.
Size and Fit
Ensuring that your infant's crib mattress fits snugly within your crib is another very important safety check. Crib mattresses are required by law to be at least 27 1/4 by 54 5/8 inches with a mattress thickness of no more than 6 inches.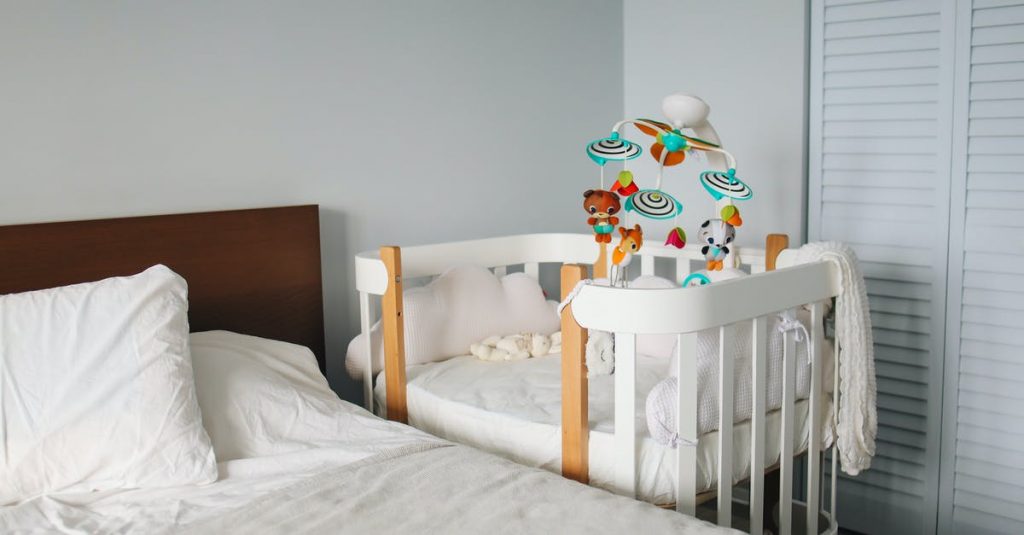 Mattresses should fit tightly within the crib with no more than a 1/4 inch (4 centimetre) gap between the end of the mattress and the beginning of the crib. The best way of testing fit is to measure your crib and mattress. Though standard cribs fit the 27 1/4 by 54 5/8 inch mattress, it is important to make sure that your crib and mattress are a proper match.
Some speciality cribs are longer in length or require specially sized or shaped mattresses.
A new trend in high-end cribs is a circular shape. In the case of specially shaped cribs, be sure that your custom-sized mattress goes all the way to the edge of the crib and doesn't leave a gap wide enough for even the width of two fingers.
In this case, the 4-centimetre rule should be followed in order to ensure that nothing can fit between the two surfaces.
Another way to ensure a good fit is to look at the informational pamphlets that often come along with your new crib.
Read the specifications carefully. Usually, the crib manufacturer will specify a mattress size that will best fit the dimensions of the crib. If possible, it is best to test the fit of the mattress at the time of purchase in order to ensure a proper match.
Ventilation
Other essential points to look for in a mattress include ventilation holes and a breathable material covering. Ventilation holes can be found on the sides of the mattress, and they allow for air and moisture to escape, which is a very good thing!
These are important features that will help to reduce the chance of odours and allergens.
Allergens such as mold are formed when moisture is trapped within the dense layers of the mattress, but with breathable options, there is no need to worry about that.
Ventilation is also key in order to decrease warmth on the surface of the mattress. A cooler sleeping area is essential to a safe night's sleep for your little one, as it is another way to reduce the risk of SIDS.
Choose your Fill Material
Crib mattresses come in a variety of different materials, each with its own unique benefits. Now that we've discussed all of the important factors of buying a mattress, we need to choose which fill material will fit the above guidelines. In order to choose the proper mattress for your needs, we need to figure out exactly what these guys are made of.
Three factors to consider when choosing your mattresses to fill are budget, durability, and firmness.
Cover Material
The cover material of a crib mattress is the first area to show wear, so it is important to consider both durable and safe options.
Thick, tear-resistant coverings will increase the longevity of your child's mattress and will leave you with one less thing to worry about once the baby has arrived. Waterproof coverings are also a great option that helps to stave off wear and moisture at the same time. These coverings reduce the absorption of liquids within the mattress and make it easier to wipe any messes away.
Other options include removable covers that make them a whole lot easier to clean when your little one has a middle of the night accident.
Throw these covers in the washer with the sheets and they will come out as good as new. It never hurts to have a backup cover either!
Hypoallergenic coverings are a great way to reduce the number of allergens near the mattress surface. These coverings offer an added layer of protection that keeps the dust mites at bay. Lower weight mattresses, especially foam-based mattresses are easy to transport and make for a quicker and easier job of changing baby's sheets.
The Best Crib Mattress of 2023: Our Choice
Brentwood Home Mattress
The Brentwood home crib mattress is an all-foam dual firmness mattress.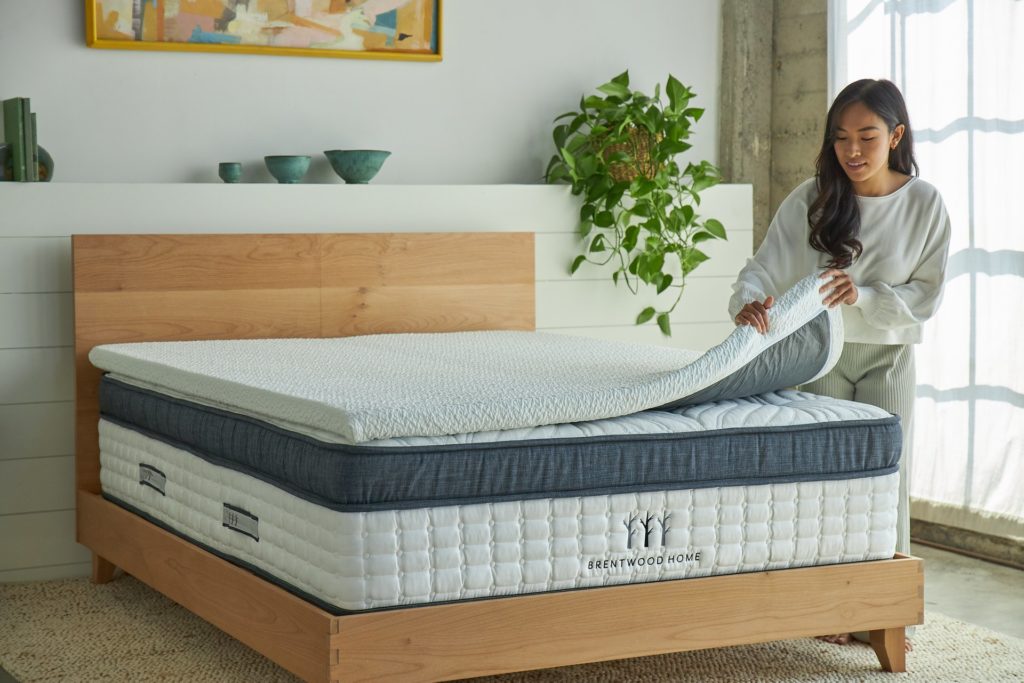 The mattress size is 27.5" x 52" x 5". The 5" thick crib mattress is a two-stage sleep system that can be used for the infant and toddler stage. The mattress contains a firmer foam on the infant side and a firm foam on the toddler side. The foam used in the mattress is eco-friendly and plant-based to ensure your baby's safety and a healthier sleep is attained.
This crib mattress receives good reviews from the customers that confirm the product description provided by the company, as it is: waterproof, dust resistant, hypoallergic and easy to clean.
This mattress is also rated high for it has premium mattresses features like square and cornered edges, high-quality medical-grade foam, vinyl and PVC free, and also housing innerspring that increases its comfortability and take care of spinal alignment problems. The mattress fits well in the standard crib and toddler beds.
Brentwood mattress is fairly light as it is about 10.3 pounds heavy. It has 4.8 customer ratings and its quality, we would say it is worth it and highly recommended.
Sealy Soybean Foam-Core Mattress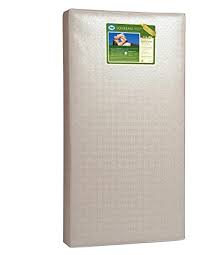 This is Women's choice "best for baby" award-winning mattress for three consecutive years: from 2013 to 2015. The Sealy soybean is a foam-based mattress covered with a cotton layer. The mattress does not have a dual firmness feature like others but it is still offering bedding services for both babies and toddlers.
The mattress is highly rated with a 4.7-star rating out of 5.
The Sealy soybean mattress contains a soft fabric cover that is specially treated with hospital-grade staph-guard to protect against bacteria and allergens, hence will not have allergic reactions to your baby and/or toddler as it has also passed GREENGUARD® GOLD certification and it uses an eco-friendly foam that has passed CertiPUR-US certification for durability, harmful chemicals emission, and indoor air quality.
This mattress has also passed ASTM crib mattress standards.
This mattress fits well in the common cribs and toddler beds, it has a 5" thickness. The Sealy soybean mattresses are easy to clean, 100% waterproof and they are stain-resistant, they also contain square edges which makes them fit well in the square corner cribs.
This lightweight foam mattress is relatively cheaper with a price tag of $139.99 if bought from Amazon; which makes it affordable.
Simmons – Beautyrest Beginnings Sleepy Whispers
This is an innerspring mattress containing 231 pocketed coil springs for offering high-quality support and luxury. This mattress is also a two-in-one crib and toddler mattress, which provides acceptable firmness on one side for the babies and acceptable softness on the other side for toddlers.
The Simmons crib mattress is waterproof, stain-resistant, non-toxic, it also meets or exceeds all federal flammability standards and the mattress is GREENGUARD® GOLD and CertiPUR-US certified for a healthier indoor environment. The mattress also contains a fire protection wrap and a woven fabric cover.
This mattress has the standard 52" x 27.5" x 6" size which gives it a good fit in common cribs, the mattress is also one of the heavier crib mattresses as it is about 19.4 pounds.
This mattress received 4.1 end-user ratings, the mattress is considered a little bit cheaper when compared to other high-quality crib and toddler mattresses. This mattress can be bought for $141.79 from Amazon.
Summing up: How To Choose The Best Crib Mattress? 
Armed with these six easy to follow steps, you are on your way to checking off one more thing on the Before Baby To-Do List. With so many options currently on the market, you can choose a mattress that is customized to your wishes while still fitting your baby's needs and your budget.
The vast selection of mattresses available online and in stores means that you can find a crib mattress that is both durable and secure, with a price tag that doesn't make you run for the door. Just remember to choose a safe and snug option and you and your new baby will be sure to rest easy!