If you plan a trip somewhere, then the first thing to keep with you is a BACKPACK. It is your friend and co-traveler when you are traveling to a place where no one knows you. You will surely love the space it offers and the way it feels. 
Traveling with you every step of your journey, it carries your personal and favorite belongings. Whether you are taking a rest at the bus station or waiting at the airport for your flight, you can rest your head on it and get relief from the exhaustion. 
One of the essential travel decisions you can make is choosing the best Backpack for your next trip.
Why prefer a Backpack over a Suitcase?
No, you can't always prefer a Backpack over a Suitcase. Suitcases are great. If you travel to a destination where you have to unload your belongings only once, then Suitcase is the best choice for you. They are reliable, rugged, and even the storage space is good enough. Available in plenty of colors, you can smoothly go on a vacation by rolling wheels of a Suitcase. 
However, if your destination is having multiple stops in the journey, the Backpack should be your first choice.   You can easily carry your Backpack anywhere you want. While you are planning a short trip or up for a city exploration, small backpacks are perfect for you. Moreover, if you're going to go for trekking, then larger backpacks will surely help you to carry your gear comfortably. However, backpacks do not have as much space as suitcases, but bags are more lightweight than the latter. 
Now, keep your Backpack ready for your next big trip. Let us move further and find out some of the best backpacks for men and women, respectively.
Best Hiking Backpacks for Men 2022: 
Here are the best hiking backpacks for men that you can get right now: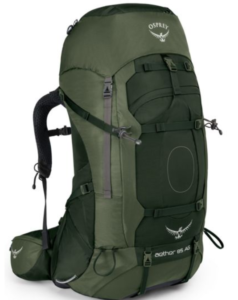 Osprey is a well-known brand when it comes to hiking. One of their popular product, Aether 85, is a fantastic backpack having 85 liters of storage space. You can put all your gear and necessary things for a week in this Backpack. 
One attractive advantage of having this Backpack is that you can even use it for a single day. Just remove the top lid, and it becomes a lot lighter in weight. It's like getting two backpacks in one.
Some other features of this Backpack include: 
It includes a compartment specially designed for the sleeping bag. You will get ample space for other necessary items as well.

It also contains ice axe holders that let you hike more confidently.

To carry snacks and other edibles, it also has hip-belt pockets that can be adjusted accordingly. 

It is very comfortable

. 
Equal weight distribution and anti-gravity suspension make it easy for you to carry it on your back with any strain. 
If you are a person who barely plans a hiking trip, you should not spend money on this expensive Backpack. 
On the other hand, if you live outdoors and hike regularly, it is worth spending every penny.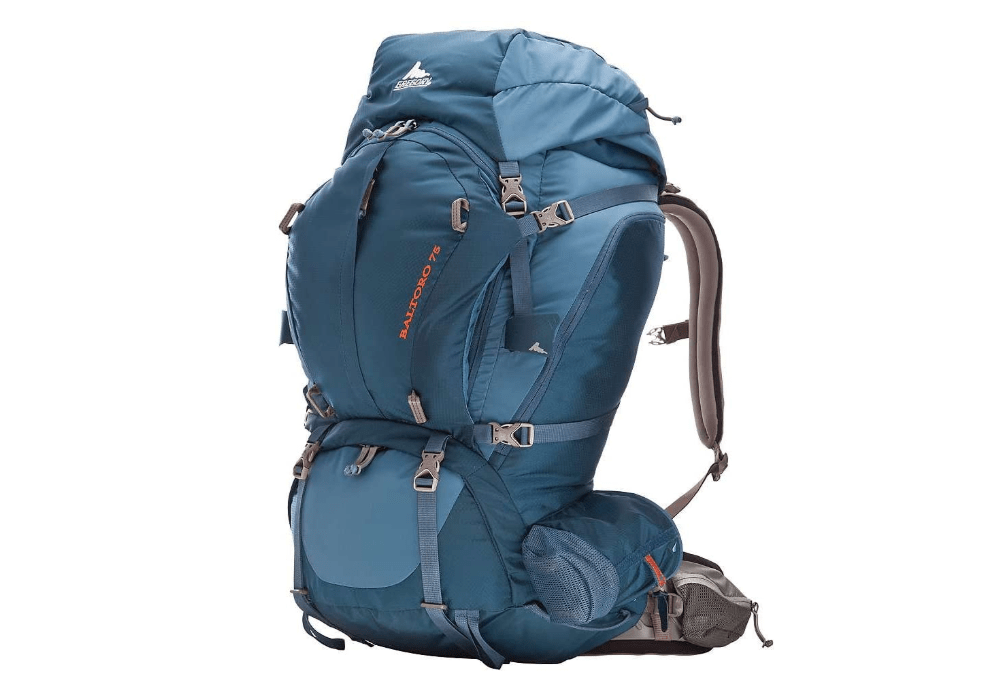 If you love trekking for multiple days, this is one of the best products to consider. It has a 75-liter storage space, and you can easily fit your required gear. 
Besides being amazingly high quality, the padding, straps, and design let you wear it for hours without getting tired.
More features of this product include:
It contains a special compartment for a sleeping bag. You will get a lot of space left over.

Various pockets and compartments allow you to keep every necessary stuff with you.

It also contains a bottle holder. 

Waterproof pockets keep your items safe from rain and snow. 

It is so comfortable that you won't be strained after wearing it for a long time. The hip-belts and shoulders straps are also adjustable. 
The product is available at a pretty reasonable price. It is a budget-friendly backpack.
The backpacks, as mentioned above, could be used for a week-long trek. But some people who do not want to stay for this long and prefer to stay outside only for 3-4 days, then Mammut Trion Pro 50 should be the best choice for them. 
Fifty liters of storage space is enough if your trip is for a few days. But if you want to stay more than that, then you should look out for some other backpack. 
Some features of this Backpack includes: 
The removable Hipbelt and the soft padding all over the product makes it super comfortable. 

There are plenty of pockets in the Backpack, even you will find some inner pockets to keep your stuff safe. 

One of the appreciated things on this Backpack is the oversized zipper that allows you to quickly access your gear. 
The quality of the Backpack is excellent. The company also provides a lifetime warranty. But, the price is a little higher as compared to other backpacks.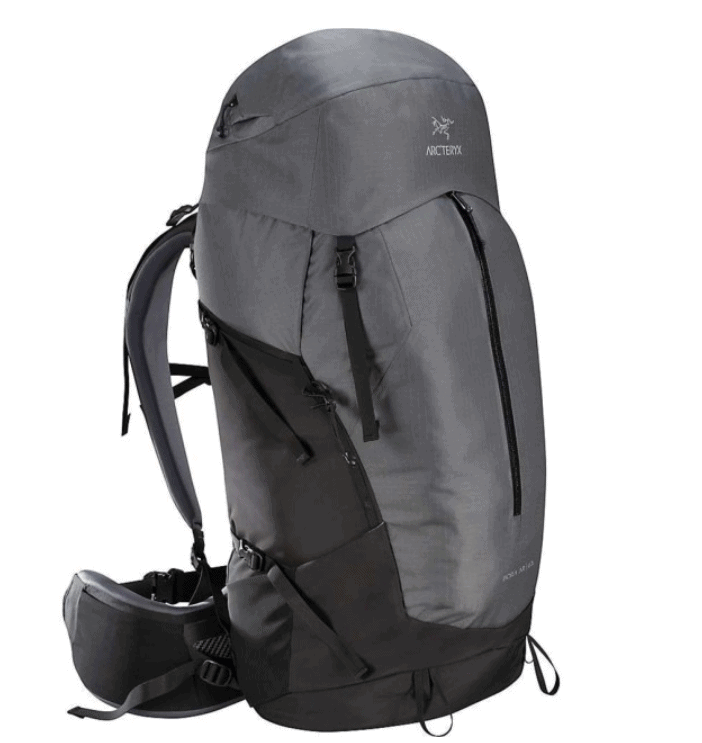 It is one of the well-known brand known for making high-quality products for hiking. Their hiking boots, ski jackets, and ski gloves are some of the best products available. Even this Bora 63 is an excellent backpack. It comes with 63-liter storage space, enough for you to carry your necessary gear for a long trip. 
Some other features of this Backpack are: 
The Backpack is extra convenient because of the different pockets and smooth zippers. 

Waterproof fabric that keeps your stuff safe from unexpected snow and rain. 

To reduce chaffing, you can also adjust the length of the Backpack. 

It comes with a custom-fit horizontal and vertically adjustable harness. 
The quality and price of this backpack are very high. But it is worth spending every penny. You will surely love this Backpack.
Best Hiking Backpacks for Women:
Here are the best hiking backpacks for women: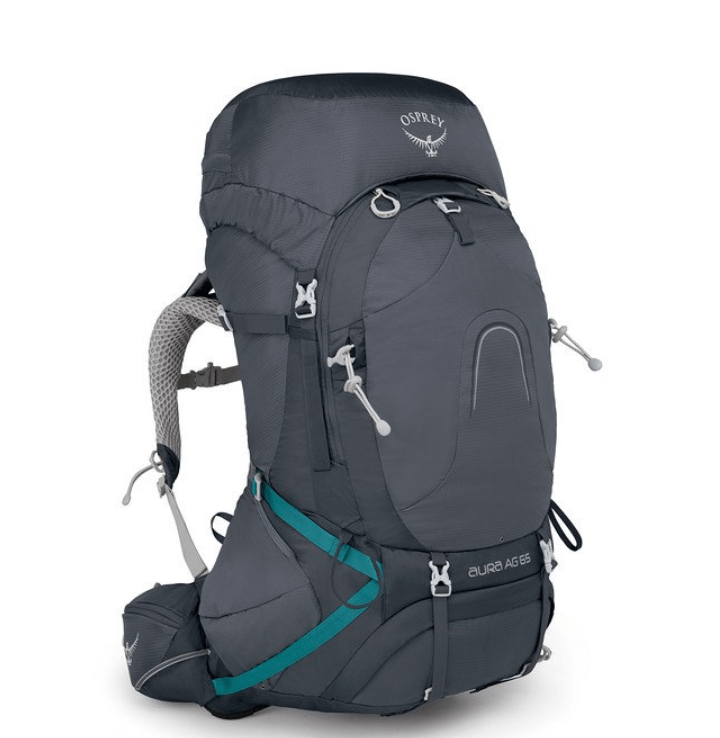 Osprey is a well-known brand when it comes to hiking. One of their popular products for women is Aura 65 AG, a fantastic backpack with 65 liters of storage space. You can put all your gear and necessary things for a week in th